Using Bird Dogs and LinkedIn to Grow Your Business
A Tip Every REALTOR® Should Know

It's all about connections, when it comes to expanding your real estate business.  Sure, you can rely on referrals from past clients, but that would not enable a "significant" increase in your current production.  A better idea would be to identify "Bird Dogs" that can assist you in finding people that are looking to buy or sell.  This term is not a new sales term.  In fact, www.Reference.com does a superb job defining what a bird dog is to a salesperson: a person who flushes out prospects for a sales representative in the same way a literal bird dog helps draw out birds for hunters. For a real estate professional, this means your potential client is early in the process, which is a perfect time to get out in front of them.  
A good example for a real estate agent would be a Roofer.  When someone is about to sell a home, they know whether they need a new roof or roof repair. If you have a Roofer in your pocket, the conversation between a potential seller and your roofer "bird dog" could possibly go like this:
Roofer: So, what are you looking to do?
Seller: We're downsizing.  It's time to put this house on the market.
Roofer: Do you have an agent?
Seller: No, we haven't gotten that far.
Roofer: Well, I have a guy that does a fabulous job.  I've referred him to a lot of my clients and they all seem to like him.
Seller: Sounds good.  Do you have his number?
You get the idea.  So as an exercise, let's consider potential bird dogs for a REALTOR®:
Divorce Attorneys

CPAs

Human Resource Managers

Moving Companies

Financial Planners
I recommend that you make a complete list of potential bird dogs, then use LinkedIn to see if you already have connections that could put you in touch with them.  
To do this, visit the LinkedIn Search box and type in "Divorce Attorneys AND YourCityState."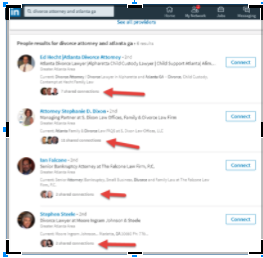 Find the People Results box that is beneath the Looking to Hire box and you should find your shared connections.  Click around, you never know if you have a close connection that can make an introduction.
If you're not an experienced user of LinkedIn, you can visit the LinkedIn help database. Here you will find instructions and tips on how to customize filter categories in search and the most efficient way to search for people on LinkedIn.  
https://www.linkedin.com/help/linkedin/topics/6001/6008
Now is the time to get your LinkedIn profile in good shape.  It's important to remember that a first impression is a lasting impression.  Start with a professional image and make sure your profile properly reflects who you are and who you serve.  If you want LinkedIn tips specific to the REALTOR® check out the RETI library.
By Juanita McDowell, RETI Team Member